Technically, there was a 33,000 decline in the total number of nonfarm jobs in September because that many fewer paychecks were issued during the survey week, which is the week that contains the 12th day of the month. However, Hurricane Irma made landfall in Florida on September 10 and Hurricane Harvey hit Texas on August 25, just prior to the survey week. It is certainly conceivable that a lot of people in Florida and Texas who actually have jobs did not get paid during the week in September that the government tallies paychecks to count jobs. In August, nonfarm jobs increased 169,000.
On the other side of the monthly employment situation, the unemployment rate dropped to 4.2 percent in September from 4.4 percent the previous month. This metric was not as affected by the hurricanes because to be counted as employed a person only has to have a job, regardless if they missed worked and / or if they were paid or not. See the Household Survey section below for more detail.
With all of that said, the government reports that the "collection rates generally were within normal ranges, both nationally and in the affected states" for both surveys.
Temporary help services experienced good growth in September with August's flat performance significantly revised upward.
Jobs Report
We are intentionally glossing over the topline job numbers because the impact of the hurricanes skewed those data. Keeping that in mind, private sector jobs were officially down by 40,000 in September, up 164,000 in August, up 133,000 in July, and a year ago, in September 2016, they were up 223,000. Although these macro data were impacted by the hurricane, the more detailed information -- especially many of the job numbers at the more detailed national sub-sector levels -- are not as affected.
The private Goods-producing sector was up 9,000 in September and that was clearly less than the 66,000 increase seen in August; a year ago, in September 2016, it was up 11,000.
Manufacturing shrank by 1,000 jobs in September after adding 41,000 in August; a year ago in September 2016, manufacturing was down 12,000 jobs.

The Construction sector growth slowed to an 8,000 increase in September after adding 19,000 in August; a year ago in September 2016, it was up 23,000.

Mining and logging was up 2,000 in September after adding 6,000 in August; a year ago, in September 2016, it was flat.
The private Service-providing sector was down 49,000 jobs in September, which was off from August's growth of 98,000; a year ago in September 2016, it was up 212,000.
The Retail trade sector was down 2,900 in September that followed shrinkage of 7,300 in August; in September 2016, it was up by 27,300.

The Wholesale trade sector expanded by 6,700 jobs in September after growth of only 1,800 in August; a year ago, in September 2016, it was up 13,300 jobs.

The Transportation and warehousing sector growth was really rolling in September with a gain of 21,800 jobs after adding 8,000 in August; this was in stark contrast to a year ago, in September 2016, when it was down 1,700.

Interest picked up a bit in Financial activities with the addition of 10,000 in September after adding 8,000 in August; a year ago in September 2016, it was up 9,000 jobs.

The Professional and business services sector slowed with growth of 13,000 in September compared to growth of 43,000 in August
; however that paled to a year ago in September 2016 when it was up 83,000. Job growth in

Computer systems design and related services

was up 4,200 in September that computes to only slightly better than the increase of 4,900 in August.

Management and technical consulting services

, was up 1,900 in September that was not as good as the 2,700 gain it experienced in August. And

Architectural and engineering services

was up 1,200 in September after adding 3,400 jobs in August.
The Education and health services sector

added 27,

000 jobs in

September with its

highly seasonal

private

Educational services sub-sector

up 13,900 jobs

.

Home health care services

was was up 3,000 jobs in September, which was an improvement from the 1,200 increase seen in August.

Leisure and hospitality sector was down 111,000 in September, likely impacted by Florida's Hurricane Irma; in August, it was flat and a year ago, in September 2016, it was up 11,000.
The total number of Government jobs was up 7,000. In September, the federal government was flat, State government was up 2,000, and Local government was up 5,000.
Temporary Help Services Roundup
Although it looks like temporary help services regained its mojo in September with growth of 5,900 jobs it actually did not lose its momentum in August. When first reported last month, it appeared August was essentially flat with an increase of only 100 jobs, but previously months data were revised so August now is being reported as growth of 7,500 jobs. Sequential growth in September 2017 was 0.2 percent with year-over-year growth of 3.8 percent.
With that stated, a year ago, in September 2016, temporary help services was up 29,500 jobs. For a chart of temporary help's growth from January 1991 to Septmber 2017 and comparing its trend to total employment, click here.
Temporary help's market share -- that is its portion of all jobs -- advanced from August's 2.0777 percent to 2.0822 percent in September. A year ago, in September 2016, it was 2.0299 percent.
(if the chart
is
unclear, click on
them
to open in a browser window)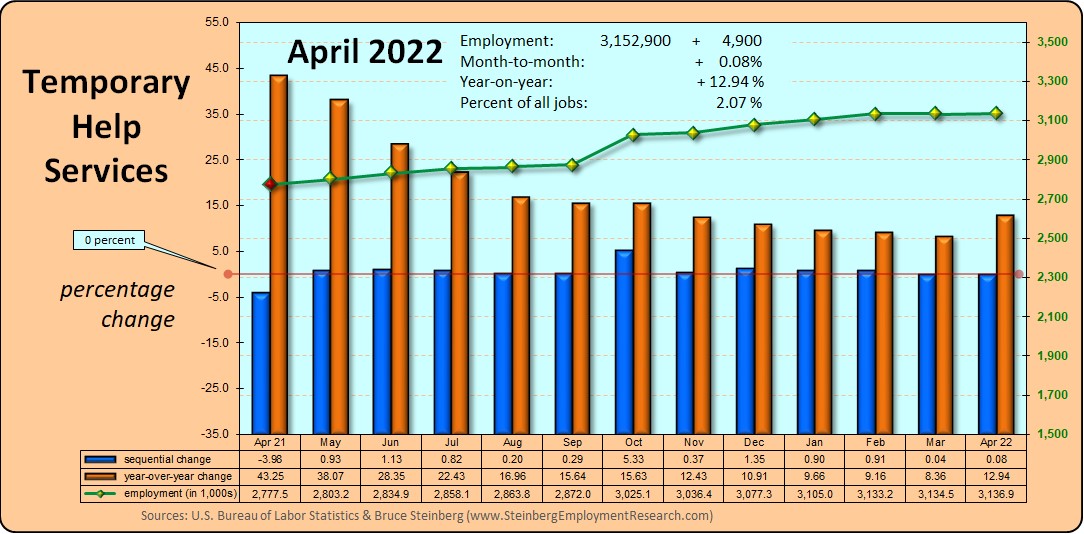 Here are some specifics regarding September's unemployment rate of 4.2 percent that was 0.2 percentage points below August's reading. As mentioned earlier, these data were less impacted by the hurricanes.
The civilian labor force expanded by 575,000 in September and there were 906,000 more employed persons and 331,000 fewer unemployed persons. In other words, the number of employed persons increased much greater than the expansion of the labor force at the same time the number of unemployed persons declined. Therefore, the unemployment rate declined.
The employment-to-population ratio increased 0.3 to 60.4 and the labor force participation rate was up 0.2 at 63.1 in September. There were 368,000 fewer people considered as not the labor force in September.
BTW, we maintain an updated table of many major employment as well as other economic indicators here or here for the mobile version.
+++++++++++++++++++++++++++++++++++++++++++++

'
Will there be enough workers?
Recently we explored the apparent disconnect between low unemployment and fairly stagnant wages / low inflation as the Phillips Curve appears to no longer be functioning properly. With unemployment rate at or near historic lows, will there be enough workers available to fuel future economic growth? As we've seen through several sources, such as the Federal Reserve Board's Beige Book, there are many reports of labor shortages throughout many sectors in many areas of the country. Putting immigration issues aside for the time being, the question remains that when wages rise, where will the workers come from?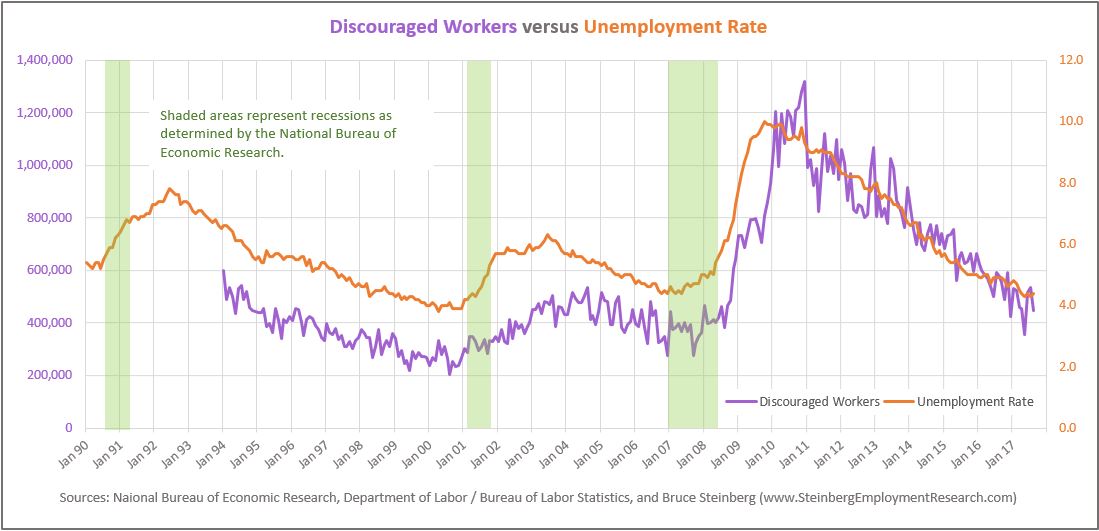 Discouraged workers are those who are available and want to work but are not actively looking for myriad reasons including they do not think no jobs are available, could not find work, lack training, etc.. And because they are not actively looking for work, they are not counted as unemployed. As expected, the trend with the number of discouraged workers tracks with the unemployment rate -- as the unemployment rate declines, so does the number of discouraged workers and conversely as the unemployment rate increases, so does the number of discouraged workers. (Note: the series of discouraged workers only started in 1994.)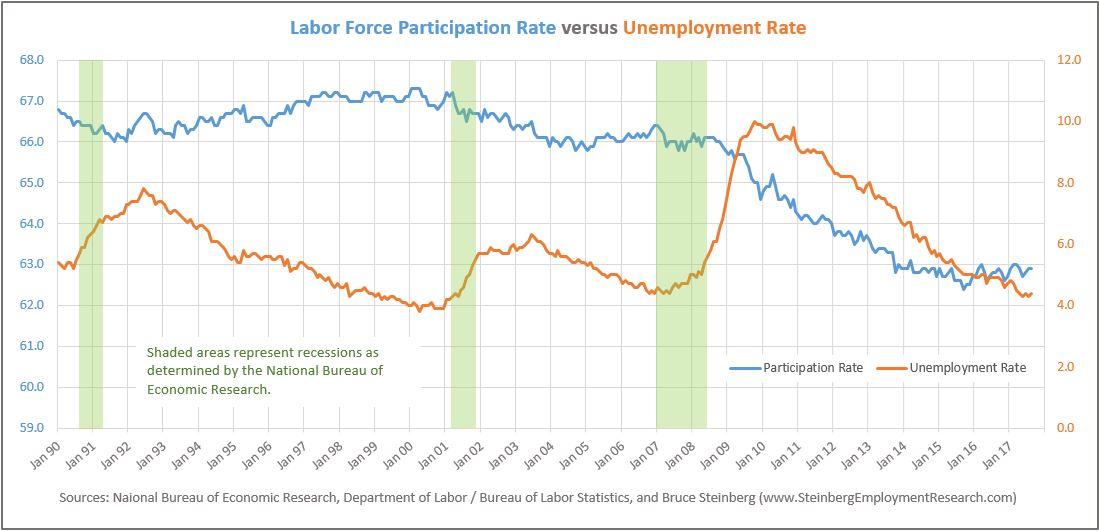 However, the trend of discouraged workers compared with the unemployment rate and the labor force participation rate is not as consistent. There had been a slight lag with the relationship between both the number of discouraged workers and the unemployment rate with the labor force participation rate. This is logical as more people -- resulting in a declining unemployment rate -- secure jobs so the labor force participation rate will eventually rise.
But that changed after the last recession. Prior, the labor force participation rate had remained fairly steady between 66 and 67 percent until the past recession when it slipped below 66 percent and subsequently fell to below 63 percent in late 2013 where it has basically remained despite the unemployment rate falling since late 2009.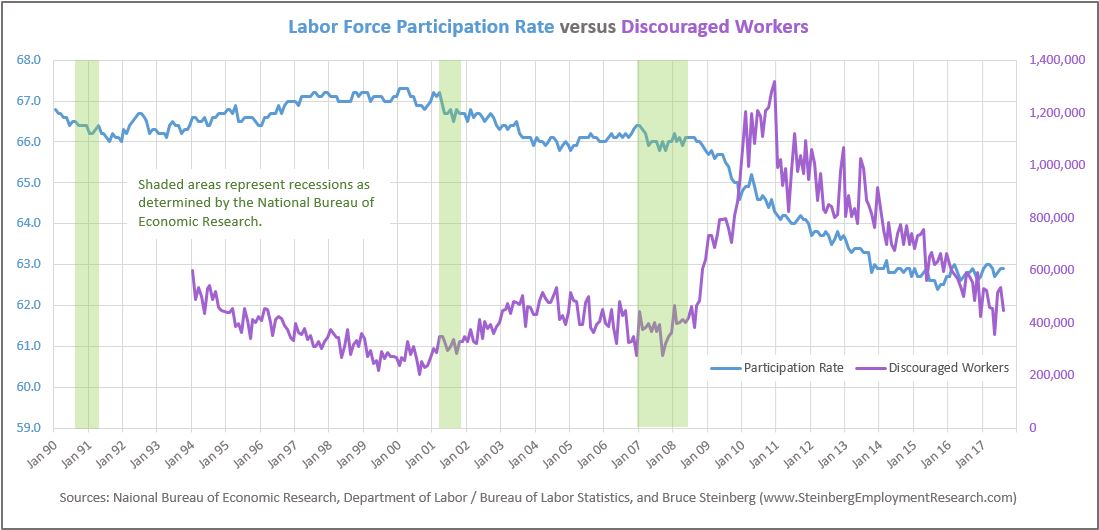 And the same inconsistent trend occurred between the number of discouraged workers and the labor force participation rate both pre and post the last recession. Of special note is how the labor force participation rate continued to decline as did the number of discouraged workers. Some of that drop could be due to structural changes in the economy as displaced workers find it difficult or not even possible to find a new jobs because their skill sets are no longer relevant.
There are many possible explanations for the drop in the labor force participation rate -- and too involved to discuss in this space.
Suffice to say, one contributing factor is the decline in the labor force participation rate could due to a demographic shift as more people are retiring, which is evidenced by a rise in the number of social security claimants as well as those eligible aged 65 and older. In addition -- and at the other end of the demographic scale -- young people not seeing an abundance of opportunities during the recession, continued their education to obtain an extra degree (or two or three). Since the recession was over more than nine years ago, theoretically, these holdouts should be now active participants in the labor force. And the rise of a "gray cash economy" may also have an effect on these data.
With that stated, despite evidence, both anecdotal and data-driven, of people working longer and shifting demographics, questions remain if there are enough non-working persons willing or able to become active members of the labor force in the future to fuel the country's future economic growth.
Do you anything to add on this subject? Let us know.
---

NEXT EMPLOYMENT REPORT -- FRIDAY,
NOVEMBER 3, 2017
Non-mobile site
SteinbergEmploymentResearch.com
Copyright (c) 2005-201
7
. All Rights Reserved. Bruce Steinberg