+++++++++++++++++++++++++++++++++++++++++++++

'

So how big is the labor force?

For the past two months in this space we addressed labor force trends by focusing in on the trends by different ago groups or cohorts. One astute reader pointed out that we were remiss by not discussing a very basic point -- the actual definition of the labor force.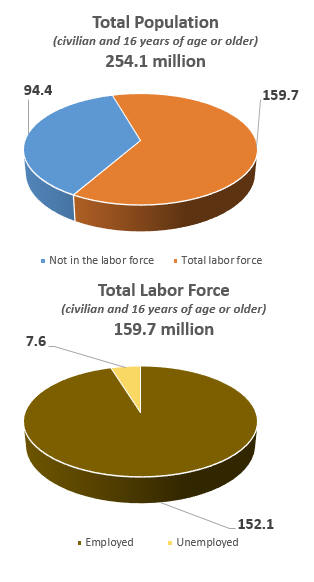 (We would like to point out that this was before the President, in his State of the Union Address last week, brought up the issue of labor force size.)

The answer is pretty straightforward, sort of. The labor force is all individuals 16 years of age and older who are either employed or unemployed. That's where the straightforward part pretty much ends.
To be considered as employed, the answer is fairly simple -- the person did at least one hour of work as a paid employee or "worked in their own business, profession, or on their own farm, or worked 15 hours or more as unpaid workers in an enterprise operated by a member of the family." There are further explanations that even if a person had a job, but did not actually work during the survey week because of being on vacation, bad weather, etc. regardless if the person was paid or unpaid, that counts as being employed.
The situation gets a bit more complicated defining unemployed. It boils down to the person had to be looking for work during the immediately four weeks prior to the survey week to be considered as unemployed. Basically, the person has to be actively looking for work. If not, they are no longer considered as part of the labor force. But there are exceptions; for example, if the person is waiting to be recalled from a layoff and did not look for other work for that period, they are still considered as unemployed.

But, the reality of the situation can be a bit different. Often when people cannot find suitable employment, they stop looking for work. So if they stopped looking more than four weeks but still consider themselves as unemployed, officially, they are not unemployed and no longer in the labor force. This is why other metrics such as the labor force participation rate and employment-to-population ratio are important to keep an eye on.
The question remains -- and will unless the wording of the monthly survey changes -- how many of those sitting on the sidelines and officially considered as 'not in the labor force' will eventually return to the labor force?