(audio only)
The above podcasts are for the January 2018 employment situation.
The podcasts of the January 2018 U.S. employment situation were produced and uploaded on February 2, 2018. And you can read the free newsletter of the current January 2018 employment situation below; in addition, you can sign-up to receive it automatically via e-mail every month!
---
January 2018 Employment Report
posted February 2, 2017
mobile | full web version
The January jobs and employment report incorporated annual revisions so some comparisons to earlier periods may not be possible and other data may appear a little out-of-whack with what was previously reported. January nonfarm jobs increased 200,000, which was an improvement from December's growth of 160,000 but well off the 259,000 growth the economy experienced one year ago in January 2017.
On the other side of the monthly employment situation, the unemployment rate was unchanged at 4.1 percent in January, remaining at its lowest level since 2000. See the Household Survey section below for more detail.
One very interesting development was that the annual revisions to the jobs data lowered the river for Temporary help services so that it never actually made it to 3,000,000 jobs in 2017 and is just below that level in January 2018.
Jobs Report
Private-sector jobs were up 196,000 in January, which was better than December's growth of 166,000. A year ago in January 2017, private-sector jobs increased at a much better pace at 252,000 jobs.
The private Goods-producing sector was up 57,000 in January and that was a bit of an improvement from December's growth of 55,000; however it was less than a year ago, in January 2017, it was up 69,000.
Manufacturing added 15,000 jobs in January after increasing by 21,000 in December; a year ago in January 2017, manufacturing was up 18,000.

The Construction sector rose by 36,000 in January that built on a 33,000 increase in December; a year ago in January 2017, it was up 51,000.

Mining and logging was up 6,000 in January after adding only 1,000 in December; a year ago, in January 2017, it was flat.
The private Service-providing sector increased 139,000 jobs in January, which was better than December's growth of 111,000; a year ago in January 2017, it was up 183,000.
The Retail trade sector was up 15,400 jobs in January after it processed 25,600 returns (it declined) in December; in January 2017, it was up 22,400.

The Wholesale trade sector expanded by 9,800 jobs in January after growth of 10,100 in December; a year ago, in January 2017, it was up 5,100 jobs.

The Transportation and warehousing sector growth continued with a gain of 11,100 jobs in January after adding 11,600 in December; however, a year ago in January 2017, it was essentially flat with a decline of only 100 jobs.

Interest was picked up 50 percent in Financial activities with the addition of 9,000 in January after adding 6,000 in December; however a year ago in January 2017, it was up 28,000 jobs.

The Professional and business services sector experienced growth of 23,000 in January that was only slightly less than the 25,000-job growth observed in December
; a year ago, in

January 2017, it was up 27,000.

Computer systems design and related services

increased 4,500 in January and that computes as better than the increase of 3,900 in December.

Management and technical consulting services

, was up 4,600 in January and that was an improvement from the 2,600 it gained in December. And

Architectural and engineering services

was up 3,900 in January after adding a similar number of jobs -- 3,800 -- in December.

The Education and health services sector

added 38,000

jobs in

January with its Health care and social services component increasing 25,800 jobs

.

Home health care services

gained only 700 jobs in January, which was a major disappointment from the 3,600 jobs it added in December.

Leisure and hospitality sector, was up 35,000 in January after adding 37,000 in December; a year ago, in January 2017, it was up 53,000.

The total number of Government jobs was up 4,000. In January, the federal government was up 5,000, State government was down 11,000, and Local government was up 10,000.
Temporary Help Services Roundup
As stated earlier, the annual revisions, which can actually go back many years, played havoc on the temporary help services data. BLS is now reporting that the sector never exceeded the 3,000,000-job mark, but we estimate it will broach that level very soon, possibly as earlier as next month.
In January, temporary help services grew by only 1,800 jobs to 2,999,400 temporary help services jobs, which works out to less than 0.1 percent sequentially growth and just under a 3.4 percent year-over-year gain. And the annual revisions meant that December's performance moved into the negative column with a loss of 1,500 jobs.
For a chart of temporary help's growth from January 1991 to January 2018 and comparing its trend to total employment, click here.
Temporary help's market share -- that is its portion of all jobs -- incrementally declined in January and now stands at 2.0292 percent compared to December's 2.0308 percent, which was down from November's 2.0340 percent. A year ago, in January 2017, it was 1.9917 percent.
(if the chart
s
are
unclear, click on
them
to open in a browser window)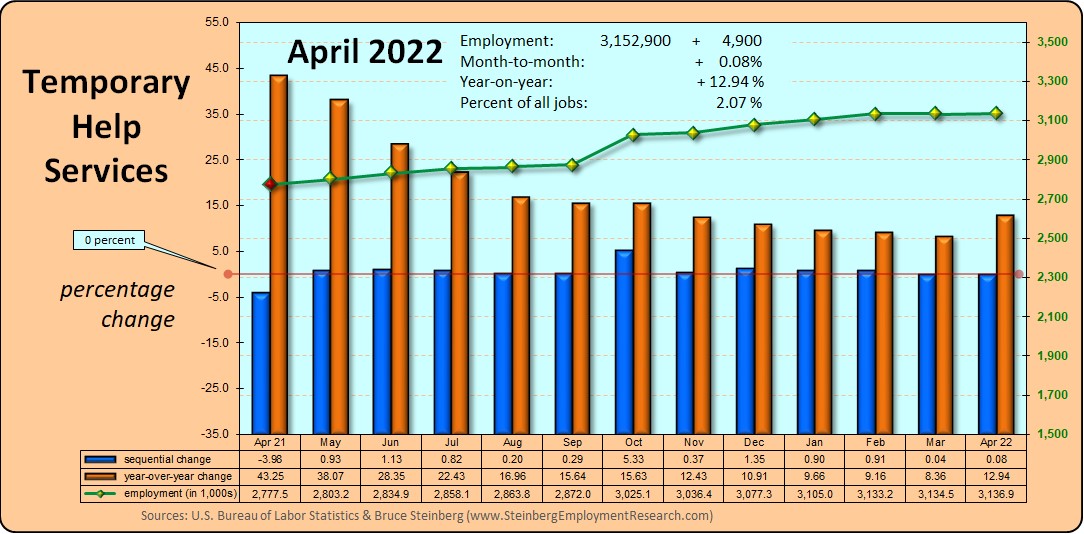 Recall that last month we pointed out that the annual performance for temporary help services was preliminary and although only the December 2017 data is still preliminary, we now have a better picture. We still can say that temporary help services did much better in 2017 compared to 2016, but just not as good as previous reported. In 2017, this sector experienced 2.1 percent growth, or about 62,000 jobs, over 2016's increase of just 0.4 percent, or about 12,000 jobs.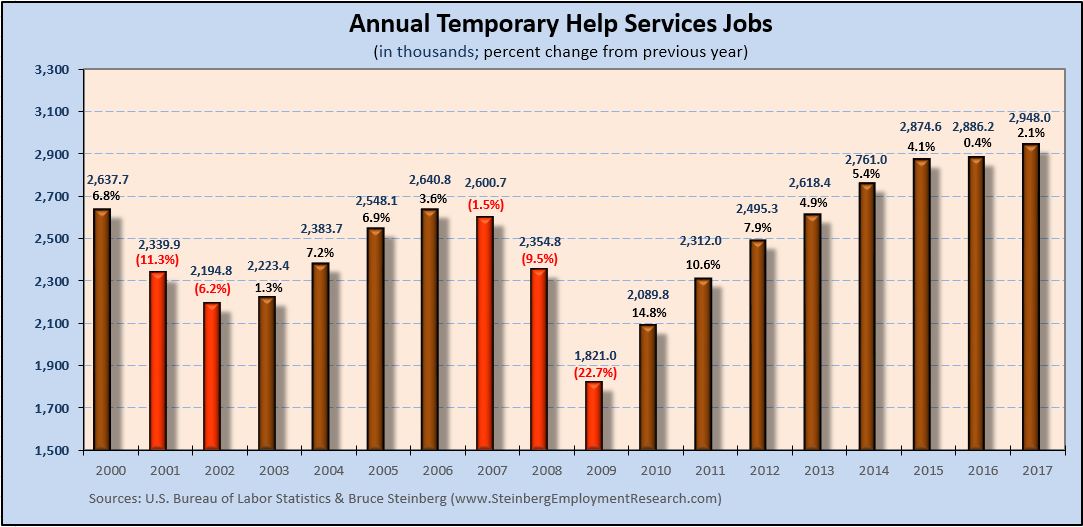 Here are some specifics regarding January's unemployment rate of 4.1 percent that was sort of unchanged from December. The reason we say "sort of" is because of the annual changes made to the population controls, making month-over-month comparisons are sketchy at best so we will dispense with hard observations and pick up that discussion next month.
The size of the civilian labor force was larger in January than December and there were more employed persons and but also a bit more unemployed persons. But the changes were not very large, so the unemployment rate did not change.
The employment-to-population ratio was unchanged at 60.1 in January and the labor force participation rate was also unchanged at 62.7. And there were slightly more people considered as not the labor force in January.
BTW, we maintain an updated table of many major employment as well as other economic indicators here or here for the mobile version.
+++++++++++++++++++++++++++++++++++++++++++++
What is our favorite recession indicator -- the Beveridge Curve -- telling us now?

It's been more than year since we last looked at the Beveridge Curve as a sign of an approaching recession. In September 2016, we concluded that "... absence of a catastrophic event that could tank the economy, we may not reach that corner [as in the economy turning the corner into a recession --
e
d.] until later in 2017 or beyond." Obviously we were a bit pessimistic at the time, but not quite proven wrong -- at least, not yet.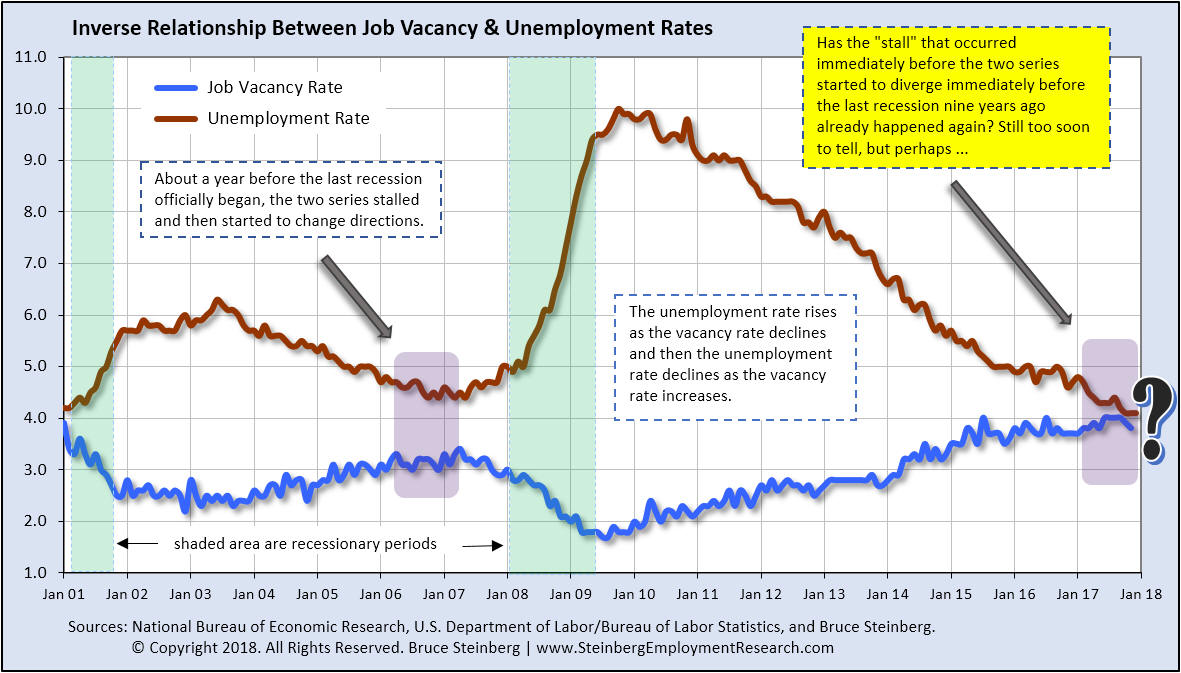 The unemployment rate has clearly leveled off, but that does not necessarily indicate it's taking a pause before changing directions and rising. At under 5.0 percent, it may be lower than the economy's non-accelerating inflation rate of unemployment, which is also known as NAIRU level. NAIRU is the specific level of unemployment that is evident in an economy that does not cause inflation to rise up. But, anecdotal as well as some hard data seem to be showing that wages are rising in some sectors and with some demographic groups as competition for workers heats up. Regardless of which side of the ongoing debate if rising wages causes inflation or inflation causes wages to rise is the true reality, wages are rising.

Furthermore this recent leveling off of the unemployment rate does not necessarily indicate the trends are getting ready to reverse -- they have experienced several similar sideways motion for a few months during the current expansion. [Incidentally, there is no issue should the two trendlines cross -- it's just a statistical convenience that they use the same scale.]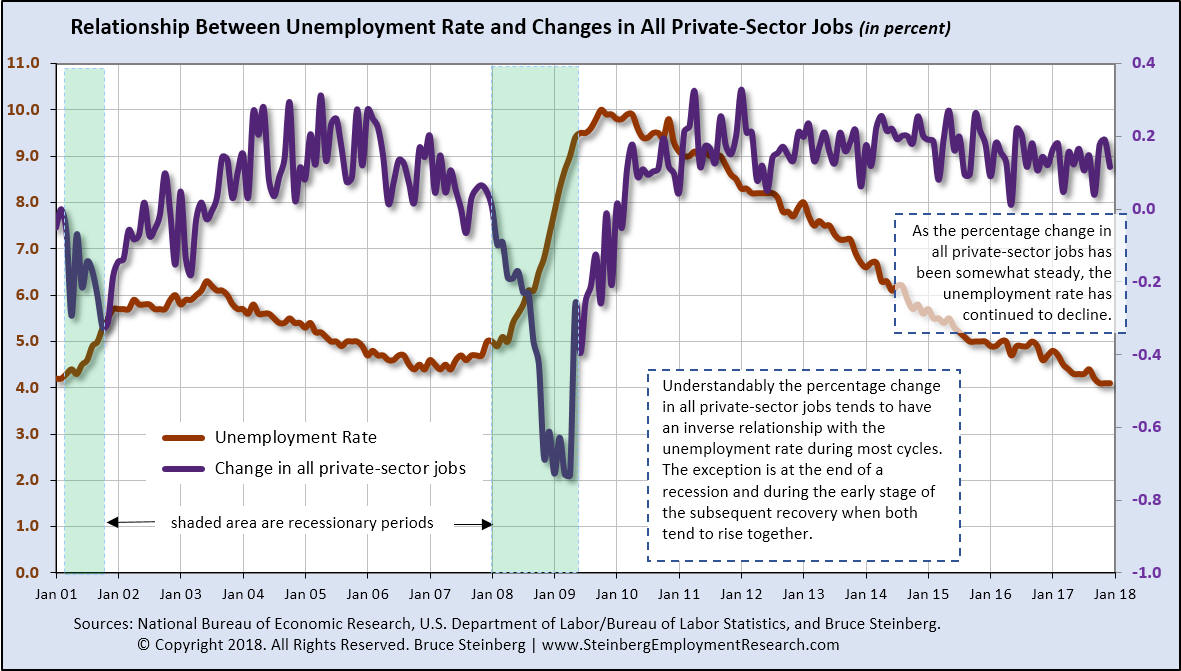 There is a similar trend for the relationship between the unemployment rate and changes in private-sector jobs. Although the rate of growth for private-sector jobs has continued to remain fairly stable after quickly rising immediately after the recession, there appears to be some recent weakening; notice the recent peaking months are lower than the previous peaking months but the lows are actually a bit higher.

The items in each chart -- the leveling off of the unemployment rate and job vacancy rates in the first chart and the space between the end of the 2001 recession and the beginning of the most recent one -- deserve close monitoring.

Many people focus on the length of the recession and not the expansion, which is the period between the end of a recession an
d
the start of the next one. So, where are we now in the expansion relative to past cycles?

For the 11 economic cycles from 1945 to 2009 when the most recent recession ended, an expansion has lasted an average of 58 months. There is a school of thought that the two recessions in the early 1980s, sometimes referred to as a "double-dipper," were not really two recessions, but a single event. Eliminate the 12-month expansion of 1982, and the average expansion since 1970 rises to 81 months.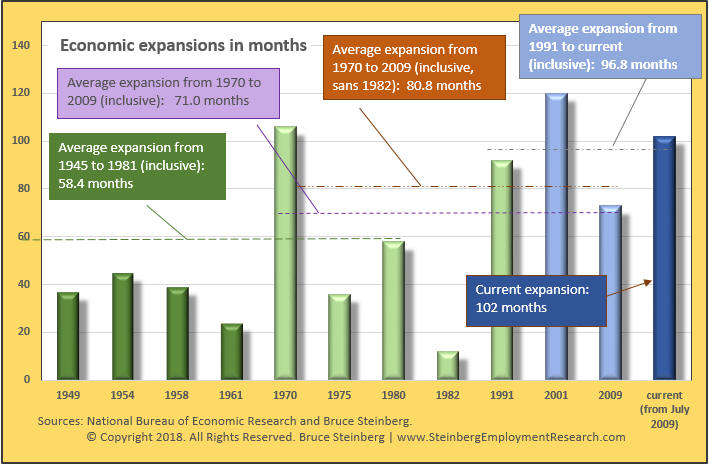 However, the economy is fundamentally different now than in the 1940s, 1950s, 1960s, 1970s, 1980s, and even into the 1990s. Furthermore, if you accept the premise many of the efficiencies companies invested in starting in the 1980s (electronic data interchange, just-in-time systems, and supply vendor management systems) were able to improve efficiencies and create healthier companies, the end result should be shorter and milder recessions.

Does this mean that the current 102-month expansion cycle has run its course? Again, if you accept the premise that the economy today is fundamentally different than the ones prior 2001, the current 102-month expansion we are currently in does not look very long-in-the-tooth. Although there are only three datum points, the average expansion from 2001 to the current time has been 97 months.

But, the wild card is how the current shifts in economic policy -- as well as proposed future political and regulatory shifts -- will play out and impact the economy. As a traditional curse purportedly and suspiciously from China goes: ?May you live in interesting times.?

---

NEXT EMPLOYMENT REPORT -- FRIDAY,
MARCH 9, 2018
Non-mobile site
SteinbergEmploymentResearch.com
Copyright (c) 2005-201
8
. All Rights Reserved. Bruce Steinberg