November nonfarm jobs increased 228,000, which was not as strong as October's growth of 244,000 but much better than a year ago in November 2016 when job growth was 164,000.

On the other side of the monthly employment situation, the unemployment rate was unchanged at 4.1 percent in November, remaining at it's lowest level since 2000. There was relatively little movement among the components that are used to calculate the unemployment rate.

See the Household Survey section below for more detail.

Temporary help services experienced strong growth and continued to improve in November after fairly lackluster performances in August and September.
Jobs Report
Private-sector jobs were up 221,000 in November, which was off October's increase of 247,000. A year ago in November 2016, private-sector jobs increased 178,000.
The private Goods-producing sector was up 62,000 in November and that was clearly an improvement from October's growth of 34,000; a year ago, in November 2016, it was up 35,000.
Manufacturing added 31,000 jobs in November after increasing by 23,000 in October; a year ago in November 2016, manufacturing was flat.

The Construction sector grew by 24,000 in November that built on a 10,000 increase in October; a year ago in November 2016, it was up 28,000.

Mining and logging was up 7,000 in November after adding only 1,000 in October; a year ago, in November 2016, it was also up 7,000.
The private Service-providing sector increased 159,000 jobs in November, which was clearly not as strong as October's growth of 213,000; a year ago in November 2016, it was up 143,000.
The Retail trade sector was up 18,700 in November that followed a decrease of 2,200 in October; in November 2016, it was down 12,900. Perhaps all the job eliminations in retail over the past year were too steep to cope with the holiday selling season.

The Wholesale trade sector expanded by 3,400 jobs in November after growth of 8,000 in October; a year ago, in November 2016, it was up 5,600 jobs.

The Transportation and warehousing sector growth continued to climb with a gain of 10,500 jobs in November after adding 7,600 in October; a year ago, in November 2016, it increased 21,800 jobs.

Interest was steady in Financial activities with the addition of 8,000 in November after adding 7,000 in October; a year ago in November 2016, it was up 12,000 jobs.

The Professional and business services sector experienced growth of 46,000 in November compared to an increase of 54,000 in October
; a year ago, in November 2016, it was also up 46,000.

Computer systems design and related services

increased 3,800 in November and that computes as weaker than the increase of 5,200 in October.

Management and technical consulting services

, was also up 7,200 in November that was better than the 4,900 gain it experienced in October. And

Architectural and engineering services

was up 2,600 in November after adding 3,600 jobs in October.
The Education and health services sector

added 54,

000 jobs in

November with its Health care and social services component increasing 40,500 jobs

.

Home health care services

was up 6,900 jobs in November, which was a slight improvement from 6,500 jobs added in October.

Leisure and hospitality sector, was up 14,000 in November after adding an outlier of 104,000 jobs in October that was likely a bounce after the hurricanes in September when it was down 75,000 jobs; a year ago, in November 2016, it was up 44,000.
The total number of Government jobs was up 7,000. In November, the federal government was down 3,000, State government was up 1,000, and Local government was up 9,000.
Temporary Help Services Roundup
After relatively weak growth for several months, November was strong with an increase of 18,300 to 3,095,300 temporary help services jobs that was the sector biggest sequential increase -- both numerically as well as percentage -- since November 2016. Sequential growth in November 2017 was 0.6 percent with year-over-year growth of 3.9 percent.
For a chart of temporary help's growth from January 1991 to November 2017 and comparing its trend to total employment,
Temporary help's market share -- that is its portion of all jobs -- continued to advance in November and now stands at 2.1022 percent compared to October's 2.0930 percent. A year ago, in November 2016, it was 2.0521 percent.
(if the chart
is
unclear, click on
them
to open in a browser window)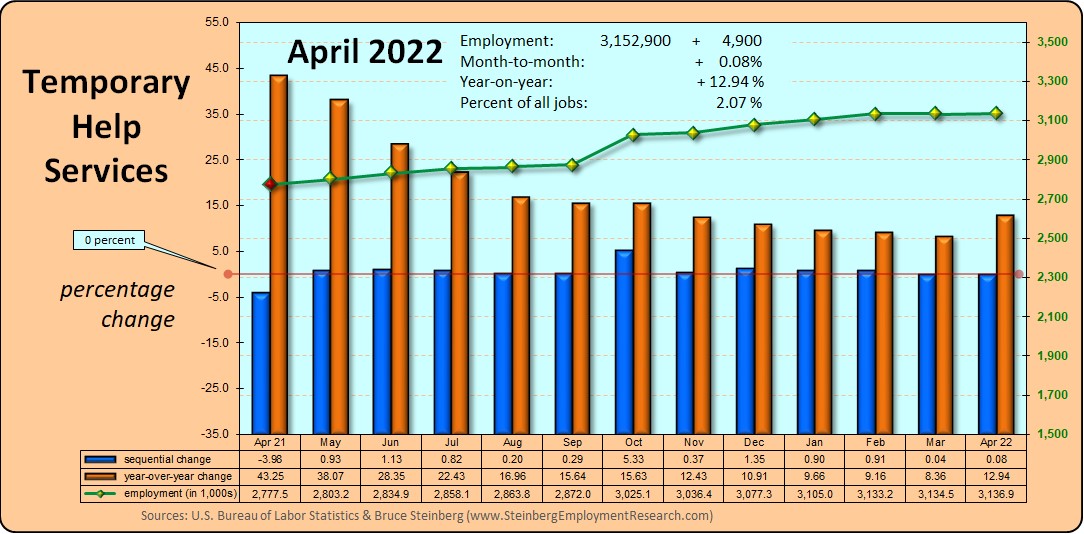 Here are some specifics regarding November's unemployment rate of 4.1 percent that was unchanged from October.
The size of the civilian labor force expanded by only 148,000 in November and there were 57,000 more employed persons but also 90,000 more unemployed persons. So, despite there the number of unemployed persons increased by a greater number than the increase in the number of employed persons, the movement was not enough to move the needle -- the needle in this case being the unemployment rate.
The employment-to-population ratio decreased 0.1 to 60.1 in November and the labor force participation rate that had plummeted 0.4 to 62.7 in October was unchanged in November at 62.7. And there were 35,000 more people considered as not the labor force in November.
BTW, we maintain an updated table of many major employment as well as other economic indicators here or here for the mobile version.
+++++++++++++++++++++++++++++++++++++++++++++

Latest Fed's Beige Book offers strategic planning guidance for staffing companies ...

If you received our email last week about the latest Federal Reserve Board's latest Beige Book -- and read our summation of it highlighting developments about and affecting staffing companies' interests -- then congratulations and you can skip down to the current November employment report below.

But, if you did not, then you may be keen to learn how the economy, employment, and wages have developed over the last six weeks or so on both a regional as well as industry / sector basis.

The Beige Book, so-named for the color of the cover when published in hardcopy, is a compilation of anecdotal information gathered via interviews with local key business contacts, economists, and market experts on current conditions in each of the Board's 12 district banks.

For example, the Federal Reserve Bank of Boston found that overall hiring was "modest, partly because of short supplies of labor, and wage increases were becoming somewhat more widespread. ... At staffing firms, bill rates and pay rates have reportedly begun to rise at a faster pace, and clients were offering more generous signing bonuses, paid leave, and other perks to attract talent." This sentiment was echoed at the Federal Reserve Bank of Minneapolis that report, "A Minneapolis-St. Paul staffing contact said his firm was seeing "a ton of wage pressure this year," with increases of 5 percent to 7 percent."

And the Federal Reserve Bank of Chicago said, "To address the challenge of finding qualified workers, firms reported that they were raising compensation, increasing advertising for positions, and training less-qualified new hires. Hiring was focused on professional and technical, sales, and production workers. That said, a staffing firm that primarily supplies manufacturers with production workers reported little change in billable hours."

That is just a sample of the kind of information contained in our summation that is free and can be downloaded from

here. In addition, you will be able to sign up for a notification when the next report is released.
---

NEXT EMPLOYMENT REPORT -- FRIDAY,
JANUARY 5, 2018
Non-mobile site
SteinbergEmploymentResearch.com
Copyright (c) 2005-201
7
. All Rights Reserved. Bruce Steinberg