Overall job growth was only 98,000 in March and that was 121,000 lower than February and almost one-half of consensus estimates; one year prior in March 2016, growth was the 225,000. In addition, Temporary help services growth accelerated is at its highest level ever and within striking distance of breaking the 3,000,000 mark for the first time.

On the other side of the monthly employment situation, the unemployment rate was 4.5 percent and that was a drop from February's 4.7 percent. It has been almost ten years since it was at this level. See the Household Survey section below.
Jobs Report
The number of private-sector jobs grew by 89,000 in March compared to 221,000 in February. A year ago, in March 2016, the economy added 189,000 private-sector jobs. To say this is a disappointment would be an understatement.
The private Goods-producing sector was up 28,000 in March and that was significantly less than the increase of 96,000 in February; but a year ago, in March 2016, it was up only 5,000.
Manufacturing growth, which had increased 26,000 in February, slowed with growth of only 11,000 in March; however, a year ago in March 2016, manufacturing was down 20,000 jobs.

The Construction sector, which has been growing like mushrooms after a spring rain, was up only 6,000 in March after impressive growth of 59,000 in February; a year ago, in March 2016, it added 43,000.

Mining and logging, which had declined 18,000 one year ago in March 2016, was up 11,000 in March after adding that same amount in February.
The private Service-providing sector gained 61,000 jobs in March, which was a disappointment from February's gain of 125,000; a year ago, in March 2016, it was up 184,000.
The job returns in the Retail trade sector continued in March with a loss of 29,700 after a similar decline in February of 30,900; a year ago, in March 2016, it was up 30,700.

The Wholesale trade sector was essentially flat with a decline of only 400 (confirmed, four hundred) in March after adding 7,900 in February; a year ago, in March 2016, it was up 1,900.

The Transportation and warehousing sector growth slowed with a gain of 3,500 in March after adding 8,100 in February; a year ago, in March 2016, it was up 12,400.

Job growth in the Financial activities sector improved 50 percent with the addition of 9,000 in March adding 6,000 in February; a year ago, in March 2016, it was up 18,000 jobs.

The Professional and business services sector was up 56,000 in March compared to growth of 36,000 in February
; a year ago, in March 2016, it was up only 26,000. Job growth in

Computer systems design and related services

was 4,500 in March after adding 5,500 in February.

Management and technical consulting services

, was up 8,300 in March after adding 9,100 in February. And

Architectural and engineering services

was up 7,300 in March after adding 5,200 in February.
The Education and health services sector

added only 16,

000 jobs in

March with its

highly seasonal Educational services sub-sector

down 1,400 jobs

.

Home health care services

was up 1,500 jobs in March, which was weaker than the 3,500 job-growth it experienced in February.

Hiring in the Leisure and hospitality sector slowed considerably with a gain of only 9,000 in March and that compares unfavorably to a gain of 27,000 experienced in February; a year ago, in March 2016, it was up 49,000.
The total number of Government jobs was up 9,000. In March, the federal government was down 1,000 jobs, State government was up 1,000, and Local government up 9,000.
Temporary Help Services Roundup
In March, there were 2,996,100 temporary help services jobs, which was a gain of 10,500 jobs and less than 5,000 away from hitting a milestone of 3,000,000. This was sequential growth of 0.4 percent and year-over-year growth of 3.8 percent, which was the strongest y-o-y growth since the summer of 2015. For a chart of temporary help's growth from January 1991 to March 2017 and comparing its trend to total employment, click here.
Temporary help's market share in March -- that is its portion of all jobs -- incrementally improved to 2.05 percent, or 2.0541 percent that was the highest it's ever been, compared to February's figure of also 2.05 percent but incrementally lower at 2.0483 percent. A year ago, in March 2016, it was 2.01 percent, or 2.0087 percent.
(if the chart
is
unclear, click on
them
to open in a browser window)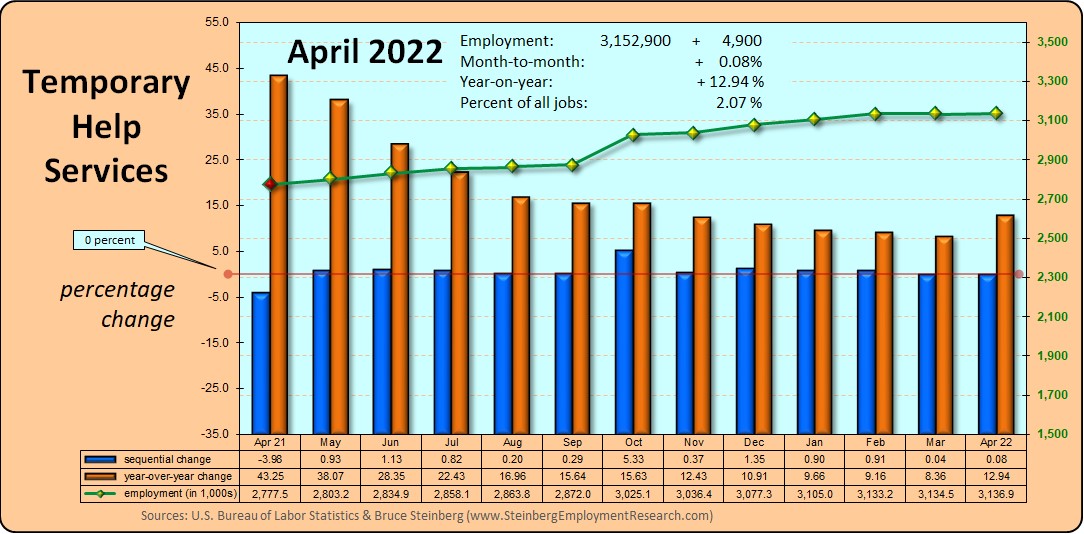 H
ere are some specifics regarding March's unemployment rate of 4.5 percent that was 0.2 percentage point lower than in February.
Although the civilian labor force expanded by only 145,000 in March from February, there were 472,000 more employed persons and 326,000 fewer unemployed persons. In other words, the growth in the number of employed persons was much greater than the growth in the labor force at the same time the number of unemployed persons declined, so the unemployment rate fell.
The employment-to-population ratio increased 0.1 to 60.1 and the labor force participation rate was unchanged at 63.0 in March. There were 23,000 more people considered as not the labor force in March from February.
BTW, we maintain an updated table of many major employment as well as other economic indicators here or here for the mobile version.
+++++++++++++++++++++++++++++++++++++++++++++

'

What is the Beveridge Curve telling us now?
For many years we have been looking at the Beveridge Curve as a sign of an approaching recession. We last looked at our version of the Beveridge Curve last September and concluded "a recession could be just around the corner. It just depends on what your definition of 'just' is." With a change of administration, political parties in charge and proposed economic policies, we thought it would be a appropriate time to take a snapshot of this measurement.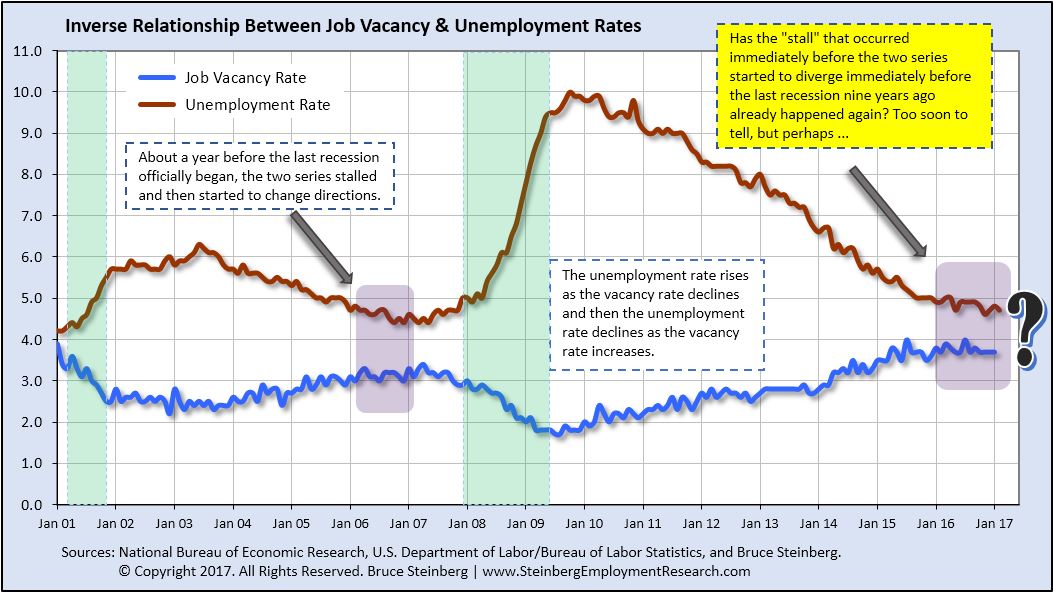 The unemployment rate has pretty much leveled off, but that does not mean it's taking a pause before changing directions, or does it? At under 5.0 percent, it could be past its NAIRU level, or the non-accelerating inflation rate of unemployment. NAIRU is the specific level of unemployment that is evident in an economy that does not cause inflation to rise.

As you may be aware, inflation is a major focus of the Federal Reserve Board and weighs heavy in its interest rate decisions. Less than four weeks ago, their Federal Open Market Committee's statement recognized that "Inflation has increased in recent quarters, moving close to the Committee's 2 percent longer-run objective ... " However, despite "Market-based measures of inflation compensation remain low ..." the Fed feels that "labor market conditions will strengthen somewhat further, and inflation will stabilize around 2 percent over the medium term." The FOMC's full statement can be read here.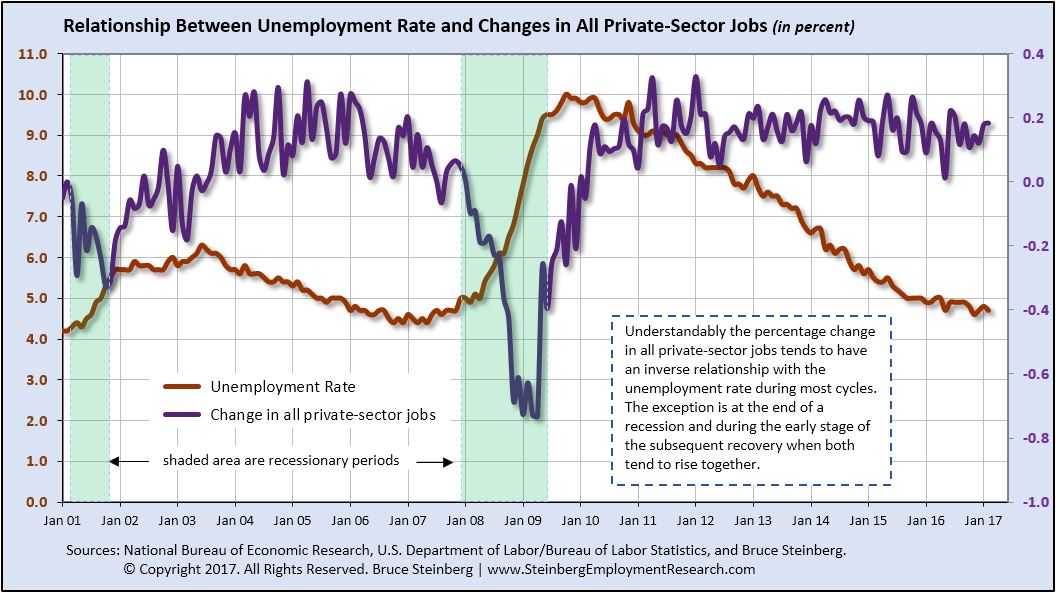 Furthermore this recent leveling off of the job vacancy and unemployment rates do not necessarily indicate the trends are getting ready to reverse -- they have experienced several similar sideways motion for a few months during the current expansion. [Incidentally, it is not an issue should the two trendlines cross -- it's just a statistical convenience to use the same scale.]

There is a similar trend in in private-sector jobs. Although the rate of growth for private-sector jobs has continued to remain fairly stable after quickly rising immediately after the recession, there appears to be some recent leveling off.

And as we saw earlier in 2016, the items in each chart -- the leveling off of the rates for unemployment, job vacancy, and private-sector job growth -- deserve vigilant monitoring.
---

NEXT EMPLOYMENT REPORT -- FRIDAY,
APRIL 7, 2017
Non-mobile site
SteinbergEmploymentResearch.com
Copyright (c) 2005-201
7
. All Rights Reserved. Bruce Steinberg